You Rock my world!
I love working at Cinderella Cakes. Every day I witness new and creative ways to make delicious tasting treats look fabulous. One of my favorite things to watch is when our artists create figures out of fondant. (We call our decorators "Artists" because they are more then just following directions, they are creating and it takes an Artist to create no matter what media they are using). I've seen everything from large hot pink bows, glittered 4th of July stars to babies, elephants, and even little people. It is amazing to watch. So when I was given the opportunity to help on one of these magical cakes I took it and didn't look back!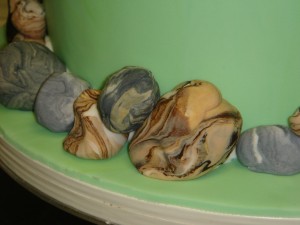 Little did I know, I'd be creating ROCKS!!! I started with three to four different colors of fondant and instead of blending them together, I stretched them and pushed them together in order to keep the colors distinct. It was fun and easy! Then I took bits and pieces apart from and formed them into the shapes and sizes we'd need. But the best part was???? I did such a great job I was asked to make rocks again for another cake! I know this sounds really silly… and it is, but I love my rocks! I am so proud of my rocks I took pictures! and soon I'll post a little spoof video of the "Epic Rock". ~music will be added soon…hehee~
Epic Rock!
So in the future… if you find yourself in need of some edible rocks… you know who to call.