Welcome Summer, Hello Pig Roast
So awhile back we were invited to a pig roast, only problem is… I don't eat pig. I don't eat any red meat actually no matter how "white" people claim it to be. Well, my husband, being the encouraging force behind most of my creations, thought it would be a great idea to volunteer me to make the deserts for this festive event. I mean, what a great way to show off my developing skill and practice more techniques? Well, what we didn't know was that there would be close to 80 people! At first we were only expecting 30 or 40… but as time went by and more people found out about it, more and more people wanted to witness this epic pig roast.
I decided to bring 4 different deserts: a banana and strawberry triffle, a tres leches cake, a chocolate cake with chocolate bailey's (baked at Cinderella Cakes), and a white cake with lemon cream cheese filling (one of Cinderella cakes ready to go signature cakes).
The triffle was eaten up so fast, especialy by all the children and the Tres Leches cake???? Well, let me just tell you about MY Tres Leches cake. I don't follow just anyone's recipe, I adapted a couple different parts of recipes and added my own special twist. I added a rum filling inbetween two layers of cake; and if that isn't challenging, I don't know what is! Tres Leches is a white cake soaked with a combination of three milks and secret spices. So you tell me how hard it is to layer a cake soaked with milk? But it was well worth it and everyone just dove into that one too. I must say, I've tried other Tres Leches cakes, but I like mine the best.
One of my proudest accomplishments was the icing and decoration of my "pig roast" cake. It was made with chocolate cake and chocolate bailey's filling; DELICIOUS! I choose the decoration to go along with the pig roast theme and opted to make it funny. SO I redrew part of a cartoon I saw on the internet… tell me what you think?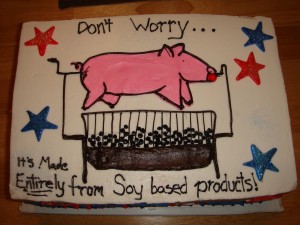 It's for us vegetarians attending the party and those who just don't like the thought of picking out a live pig and slicing him up to roast yourself. It was the favorite desert to look at!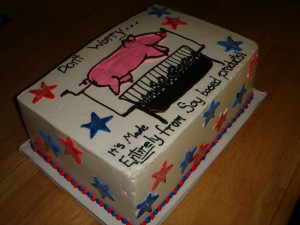 My husband even helped by cutting out the red and blue fondant stars so that I could glitter them and put them on the cake. I think he helped because he felt so bad volunteering me to make deserts for 80 people 😉 and it was much appreciated! Here are his fabulous stars.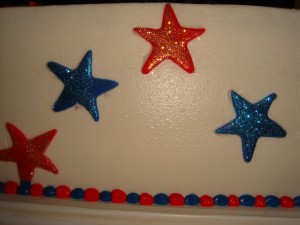 So Once those three deserts were made, we decided to make sure everyone would have desert and bought a signature cake from Cinderella Cakes. Cuz… you never know when someone wants to try more then one desert!
Over all the even was a huge success… the deserts were at least. The pig was placed in the pig roasting box around noon but still hadn't completely cooked by 10:00pm! It was much bigger then they though. I guess some of the guys had gone to a pig farm and actually picked out the pig when it was alive and running around. They were only given an estimate on how many pounds it would be cooked. Well, it was much MUCH bigger then anyone guessed. But from what I could tell, it was mostly worth the extended cooking time. Most of the guests had left and we served desert first (which was fine by me… Life's uncertain, Eat desert first!). But those that stayed were VERY VERY happy with the taste of the cooked pig!