Better Late then Never… right?
In my former life I've never been known for my timeliness. So when I post this picture you'll understand that I'm still not ALWAYS on time with my holidays and congratulations… but I ALWAYS deliver.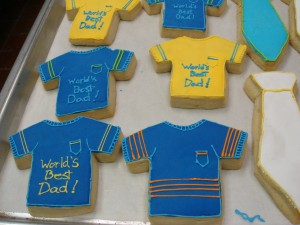 I wanted to share some delicious cookies I decorated for Father's Day. Working at Cinderella Cakes has it's benefits, Im learning new ways to decorate using royal icing and many other products. Most of my gratitude goes to Beth. She was on The Ultimate Cake off on TLC in February and won the challenge. Her cake was an amazing six foot Sweet Sixteen design. You can look it up on youtube if you're curious about the episode. I get to work with her almost everyday and learn what to and not to do when I decorate.