It's all in the Beat!
Drums Drums and more drums!!!  A friend of ours has an adorable little boy who is turning three and just idolizes everything about his dad.  And most significantly he love when his dad plays the drums.  This little boys LOVES the drums so much that everything else boy like in the world comes in a distant second.  SO what a better way to make an impression on a drum loving little one then to replicate a drum set on his favorite kind of cake; CHOCOLATE with vanilla cream center and icing!!!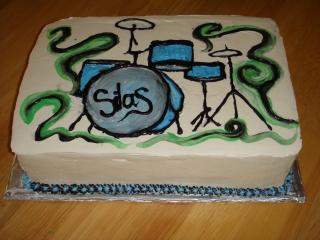 But for this Artist who barely knows what a single drum looks like carried by a man in a marching band, it was quite the challenge! So diligently I searched the internet for pictures of drum sets until I found one I thought I could replicate on a 1/4 sheet cake. This was tricky too! Ever tried to make a straight line without a ruler? With a couple tricks I learned and read about I carefully attempted my first design transfer. I mixed a couple colors and used a paint brush to draw on the movement lines. Voila! My first drum set, A very very Happy and Ecstatic Three year old who couldn't stop grinning from ear to ear while he looked at it! The most personal touch? I put his name on the Drum in a rock and roll style that made it all HIS!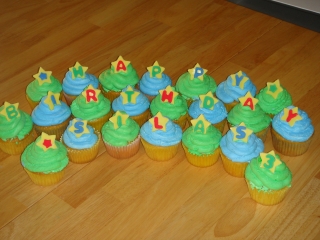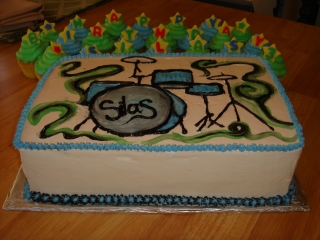 For the guests that didn't like chocolate cake, my friend and I made yellow cupcakes with whipped cream frosting and fondant decorations that spelled out Happy Birthday Silas! Those went super fast too… well the frosting did, you know kids!
All I can think is… it's just gonna keep getting better and I love the creative part of making the cakes!