Royal Icing Finals!
So I've just finished my second class in cake decorating and think I've created more royal icing flowers then I thought existed!  WOW!  Daisy's, Pansy's, Cherry Blossoms, Daffodils, violets etc…  And this is my finished product.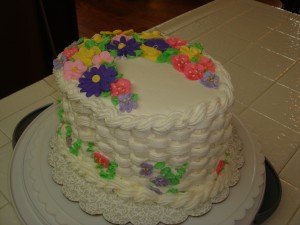 This was a fun project.  The hardest thing was transporting the cake home from class.  The cake ended up being so tall after I put the flowers on that the carrier lid smooshed the top of the cake a little.  It was beautiful when the flowers were a little more propped up, but it still looks pretty and I'm happy with it.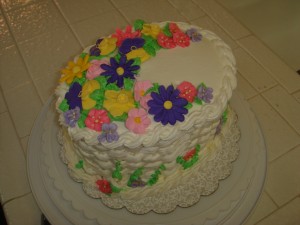 The other fun thing I did with this cake?  I used banana flavoring instead of butter or vanilla in the icing and filling.  It was delicious!  So refreshing after weeks and weeks of straight butter cream.  Then I took an ordinary yellow cake recipe and added some allspice and cardamom.  WOW!!! What a cake!  I'm saving this one for my portfolio!