It's not PAINT, Everything's coming up Roses!
So I've been taking two cake decorating classes this month; one on fondant and one floral gumtext.  The combination of the two of them is enough to make me get confused and a little crazy at times.  Well, lately I've been playing with fondant and creating roses.  At first we were told to use one color, but if you know me, I like to experiment a little and so I added a couple of colors to give my roses a variegated look.  They actually look really pretty!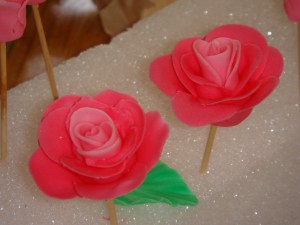 I guess they looked so good, my cats decided to give them a try too.  SO in the morning when I woke up I noticed some of the petals had been broken off.  I guess they look better then they taste <little grin>. You can check out "Cakes I Make" for a couple more pictures.